Back to Blog
Bright Ideas - Use Pinterest for Transition Time
Today, I'd like to share how I use Pinterest for transition time…
We all know that teachers are consistently short on time, so this hop is perfect for the busy teacher - chock full of effective, short, and focused Bright Ideas!
In my classrooms, I tend to "hold tight" to each moment, squeezing in as much content as I can throughout the day. When I was in a classroom with an LCD Projector, I used interesting pins from my Pinterest boards to help us refocus on our task. My students always have a writing notebook, and it is a handy way to have students do a "quick write" to transition back from recess/lunch/random fire drill/etc. I project the picture, they get 30 seconds to (quietly) discuss the picture with a partner, then they have a quick write, which takes about 2-4 minutes. Grammar and spelling are not a priority during a quick write, and each quick write does not need to be shared. It just helps ease the transition back into the classroom. Add a bit of soothing music, and you are set to transition in style.
For instance, when writing "how to" pieces, I like to project
this picture
, and ask students to write about the process of decorating this cake:
Or, if we are writing imaginative narratives, I might project this picture, and ask students to write about what happened after the horse began talking.
Need another reason to use this? Project this picture of Madrid, Spain and have students compare/contrast with the city they live in:
To keep it organized for myself, I have a
Pinterest Board called Picture Prompts
. It makes it easy for me to post a photo quickly without needing to worry about the "other" stuff out there on the internet (since links change (constantly) I project the image within Pinterest, instead of visiting the website itself. ;)
If you don't need them to write, use the picture prompts to practice describing, inferring, boosting vocabulary for your ELL students, and your Speaking and Listening goals. Imagine the conversations your students will have as they get bundled up to go outside and you project this:
For more Bright Ideas, click the button below to visit Krystal's blog,
Good Enough Teacher
. Happy Sunday!! For other Bright Idea posts from me,
click here
.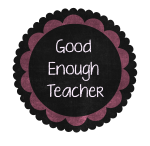 More Bright Ideas for Lower Grades: